Cozy Sweater Whipped Body Butter
Regular price
Sale price
$20.50 USD
Unit price
per
Sale
Sold out
This aroma resembles walking out your front door on a crisp, fall morning while wearing your favorite sweater! Fragrance notes of green apple, mint, oak moss, woody, earthy, pine and eucalyptus allows your mind to transport with just one sniff! 
Try our Cozy Sweater Whipped Body Scrub for a crisp shower experience! Also comes in our Creamy Hemp Seed Infused Body Lotions!
If you are looking for a cozy vibe, try our Autumn Air fragrance line for a warm, outdoorsy amber scent!
Body butters are a thick cream like texture that melts into a lovely buttery oil once it makes contact with your skin. Our body butters are made with skin loving oils and butters that will completely transform your skin in just one use!
PLEASE NOTE: We ship all body butters with cold packs to help prevent any melting during shipment. Please bring your package inside as quickly as possible to prevent any further exposure to outside elements, as melting can occur. 
4OZ of product in a 6OZ jar
Ingredients: Shea Butter, Mango Butter, Kokum Butter, Apricot Kernel Oil, Grape Seed Oil, Jojoba Oil, Vitamin E Oil, Fragrance, Powder Pigment, Caprylyl Glycol, Phenoxyethanol, Hexylene Glycol.
Share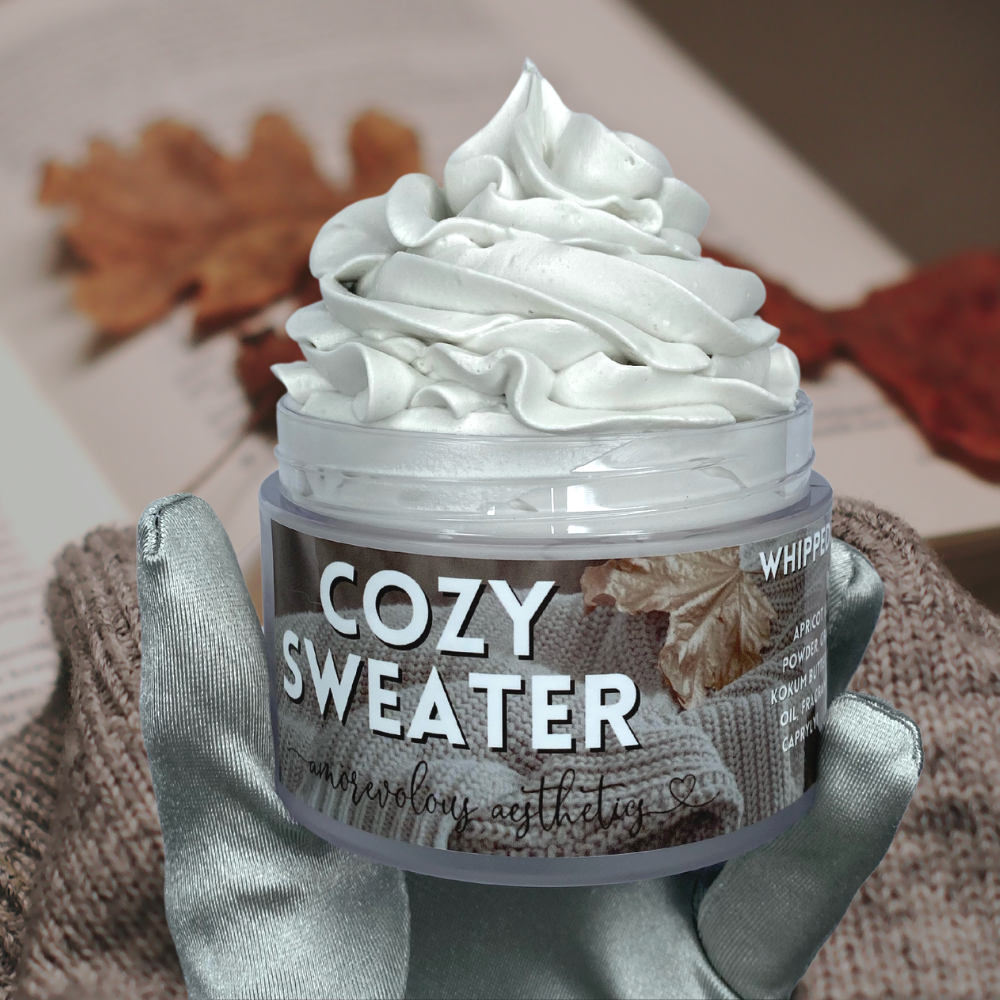 Bought this with high hopes and it did not disappoint – I finally have a moisturizer capable of healing that pesky winter eczema! 🙌 And the scent, as always, is to die for.
Smells so good.
I love this body butter. I put it on right out of the shower and it is so moisturizing. The smell is rich and fresh and does smell like Fall. I'm very satisfied!
First Ever BodyButter
I bought this with the body scrub of the same name and scent, and using both makes me feel extra warm and smooth. Like with all the scrubs and body butter I bought from here, I always go back just to smell it. I am so glad I took the plunge and bought from here because I know I am going to buy more from here and see what other flavors make me melt.
Heavenly scent
This scent is divine. I love scented lotions, but tend to find some scents too sweet and overpowering. This body butter is the perfect mixture of a light sweetness from the apple scent, with the more earthy scents like eucalyptus. It smells like it could be used for both men and women, and reminds me of Amorevolousaesthetics other scent (Autumn Air) if it weren't as sweet and were a bit more toned down and earthy.
I also own the body scrub in this scent, and would buy any other product she makes in this scent in the future. I'm hoping for hand soap in the future :)
Go-to body butter
I like the unique smell of this one, light and crisp. Blends in to skin well and leaves my skin feeling super soft!